My BlackVue dash cam is not powering up, nor is it turning on. How do I fix it?
Updated 2 months ago
If your BlackVue dash cam doesn't power on when you start the car, you may want to try:
Unplug and re-plug all the cables carefully.
Check the condition of the dash cam's power cable and Cigarette Lighter Adapter.
If the dash cam is hardwired, check the power connections, fuses and cut-off voltage/time settings.
Take out the camera's SD card and connect it to your computer. Does it format properly over the computer?
If the BlackVue camera is properly receiving power, getting in close to the head of the unit, a faint whirring sound can be heard. This is a great way to indicate that your wiring is working as intended.
Here are some additional troubleshooting tips for you:
If your dash cam is connected to a hardwiring kit or connected to a battery pack, please check if the dash cam powers on without using the hardwire kit or the battery pack. You can do so by using the included 12V cigarette adapter inserted directly to the vehicle's 12V socket. If the dash cam does power on this way, then we can determine the issue is with the hardwire kit.
If your dash cam is not hardwired or if the dash cam does not power on with the 12V cigarette socket, please check if the glass fuse in the 12V cigarette adapter is intact - please refer to the below image: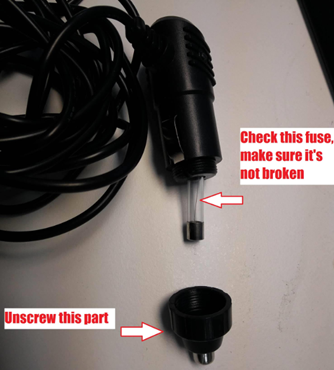 Thanks for stopping by!
We love hearing from our customers, and we'd love to get your feedback to further improve your experience with us. Let us know how we're doing, or contact our support team ([email protected]) if you need further assistance from us.
Was this article helpful?